Functional Overview of Ford Scorpio 95+ Headlamp System
A printable PDF version of this page is available HERE
Introduction
The 95+ Scorpio, utilises standard automotive headlamp technology, albeit in a revolutionary polyelipsoid design. H1 Halogen 55W lamps are used for both the Dipped Beam and Main Beam illumination and standard filament lamps are used for the side lights.

The Head lighting system contains 6 lamps, 3 per side.

1. Dipped Beam
2. Main Beam (& Headlight Flasher)
3. Side lamps/Parking Lights/Dim dip Running Lights (Pre facelift models only).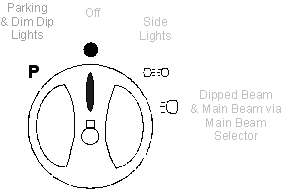 Changing Halogen Lamps
When fitting replacement or upgraded headlamp bulbs, its important that no grease from the fingers is allowed to contaminate the glass envelope of the bulb. Grease will cause hot spots, resulting in black marks and premature failure of bulbs due to overheating. If you do happen to touch the glass envelope, use methalated spirits or IPA cleaning fluid to fully remove any grease residue.

For further information about Headlamps read here and here.

Faults

Failure of a Lamp to Illuminate

1. Faulty Bulb, check visually or with DMM.

2. Bad connection on Multi Pin plug to Headlamp Unit, check clean and reseat.

3. Activated Fuse in relevant circuit, replace fuse, check visually for damaged wiring loom, then retry. See Here for Fuse Box Info

4. Faulty associated Relay, replace Relay.

5. Wiring Loom Open Circuit fault, investigate loom for damage and repair appropriately.

6. Fuse Box fault. See Here for Fuse Box Info

7. Faulty Headlamp Selector Switch or associated wiring Loom.

Lamps will not Turn Off

1. Wiring Loom Short Circuit, inspect loom and repair appropriately.

2. Short in Fuse Box. See Here for Fuse Box Info

Loom Repairs
If Loom damage is found, it may be possible to make a localised repair. Remove the outer insulation. Unwind insulating tape from the damaged area, then cut out the faulty wiring, then follow the diagram




Automatic Headlight Extender Modification (see here)